Waukesha Metal Products, an international full service metal stamping and fabrication partner dedicated to delivering high quality and best value products, is pleased to announce the installation of the Mitsubishi SR-F40 Laser at its fabrication facility located in Grafton, Wisconsin.
The Mitsubishi SR-F40 Laser features:
• 4,000 watts of laser cutting power
• Cuts up to one inch thick
• Utilizes fiber optic cutting technology for cutting speeds up to 3x faster than traditional methods
• Fiber optic laser cutting can reduce processing time by as much as 50%
• Remote 360 technology provides real-time data that increases productivity, improves efficiency and reduce down time
"We are constantly looking for ways to enhance our customer experience," said Jeff Clark, CEO. "This investment is just one of the ways we are adding value, providing new solutions and improving efficiencies for our customers."
From humble beginnings as a two man tool and die shop, Waukesha Metal Products has developed into an international full-service metalforming manufacturer, delivering the best-value parts and assemblies in the industry since 1971.
For more company information visit: www.waukeshametal.com.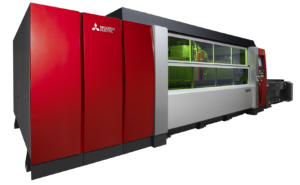 -###-