Engineered for Durability & Strength™
Tool and Die Equipment
At Waukesha® Metal Products we're especially proud of our in-house tool and die shop. Not every metal stamping and fabrication shop can build their own tools, so this capability provides our customers with many unique advantages. Combined with our experienced team of journeyman toolmakers, this equipment helps improve Waukesha Metal's efficiency and lowers production costs.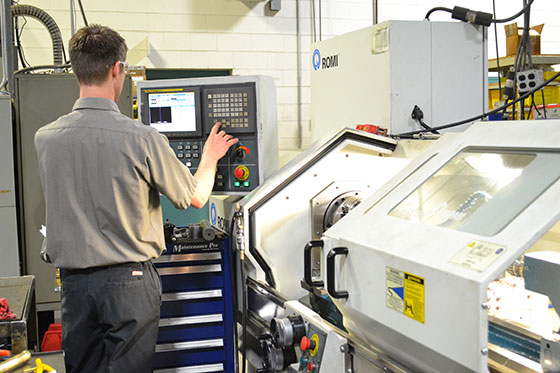 Types of Equipment
Our tool and die room is equipped with a wide range of CNC machining centers, CNC lathes, wire EDMs, grinders, a heat treating furnace, and mills.
This diverse set of equipment allows us to build the right die for the job, no matter how complex.
We're especially proud of the capability that this equipment gives us to make innovations with our servo press technology. The equipment is also perfect for progressive tool and die work.
Below you can find a complete list of our tool and die shop equipment.
Unique In-House Solutions
Waukesha Metal's team of tool and die makers can take your specifications from the
design stage all the way to parts off the press.
Our tool room allows us to work closely with our customers' engineers to provide tailor-made solutions for their designs. If you need a unique die or have custom tool design needs, our engineers can make them a reality.
Quality Assurance
Once production starts, you can be sure that our tool and die team is keeping an eye on your project. Should an issue occur, the fact that they're in-house means that they can minimize downtime and get production back on track quickly.
The Waukesha® Metal Products tool and die room also helps implement our custom sensor technology, preventing damage, minimizing waste, and decreasing lead time.
Sussex, WI
| | |
| --- | --- |
| Equipment | Capacity |
| (1) Milltronics MB20 CNC Mill | 40″x20″ Travel |
| (1) Milltronics RH20 CNC Mill | 40″x20″ Travel |
| (1) Charmilles Robofil 290 Wire EDM | 10″x16″ Travel |
| (1) Mitsubishi FA20S Wire EDM | 14″x20″ Travel |
| (1) Haas VF-9 Machining Center | 40″x84″ Travel |
| (1) Romi CNC Lathe | 17″ Diameter Max |
| (1) Okomoto Wet Grinder | 16″x32″ Travel |
| (1) Okomoto Wet Grinder | 12″x24″ Travel |
| (1) Mattison Wet Grinder | 20″x72″ Travel |
| (2) Mitsui Surface Grinder | 6″x12″ Travel |
| (1) Okomoto Surface Grinder | 6″x18″ Travel |
| (1) Electra Heat Treat Furnace | 2300° / 1200° |
| (1) Bridgeport EZ-Track CNC Vertical Mills | 9″x42″ Table |
| (3) Lagun Vertical Mills FTV-2S | 9″x48″ Table |
| (1) Carlton Radial Arm Drill | 36″x11″ |
| (1) Cincinnati Horizontal Mill | 12″x60″ Table |
San Luis Potosí, Mexico
Tool Room Equipment – San Luis Potosí, MX
Equipment
Model
Capacity
Falcon Chevalier grinder
FSG-618M
6″ x 18″
Hacer grinder
AGS-1224 AHD
12″ x 24″
Thompson surface grinder
12 X 24
12 X 24
Jones & Shipman Universal Tool & Cutter Grinder
310
Victor lathe
1660L
16″ Diameter Max
Clausing lathe
Colchester 15
15″ Diameter Max
Bridgeport Vertical Milling Machine
Series II Special, 8f
11″ x 58″ Table
Bridgeport Vertical Milling Machine
D675
9″ x 48″ Table
Milltronics CNC Vertical Mills
VKM4
53″ x 12″ Table
Wilton Drill
2045
25″ x 18″ Table
Erlo Drill
TCA-35
19″ x 20″ Table

Milwaukee Magnetic Drill

Dake Press
33-115
30″ x 30″
Kalamazoo AbrasiveType Saw
MICH
18″
LETEN Band Saw
LCM 360
14″ X 8″
DoAll Metal Cutting Vertical Band Saw
2013-20 20″