Engineered for Durability & Strength™
About Waukesha Metal Products
With over 50 years of experience in high quality precision metal stamping, metal fabrication, component assembly, and tool and die manufacturing, Waukesha Metal Products is an agile, reliable provider of full service solutions for its customers.
Pairing a full range of advanced metal forming and fabrication equipment with a complete menu of value added services, Waukesha Metal Products can serve customers in virtually any industry. We can help your company with everything from short run spec work and prototypes for longer production runs to custom metal fabrication and large volume production. Waukesha Metal Products can take your project from conception to completion, from the design and engineering stage to short run or high volume production to value added services such as welding, anodizing, machining, plating and much more. Our customers know that it's not just best value parts or exacting specifications that make the difference – it's the relationship. That's why our program managers ensure that our customers know at every step of the way: "We're the ones that get it done."
Proud to be Engineered for Durability & Strength™
Making sure every product is Engineered for Durability and Strength™ is essential to our reputation and your satisfaction.
Over 170 dedicated people armed with controlled processes provide production seven days per week. Practicing lean manufacturing techniques throughout the organization, we optimize production with automation, cellular manufacturing, enterprise resource planning and efficient utilization of assets. Waukesha Metal Products' high standards for quality, reflected in our numerous ISO certifications, allow us to fulfill the metal stamping and fabrication needs for a wide range of industries. We specialize in metal stamping and fabrication for the automotive (especially off highway and heavy truck), aerospace, medical, consumer products, industrial power, solar, commercial and residential lighting, and agricultural equipment industries.
After reviewing your needs, our team focuses on:
Process Excellence
Innovation
Validation
Continuous Improvement
Through our constant vigilance of these primary aims, Waukesha Metal Products has been dedicated to providing the best value parts and assemblies in the industry since 1971.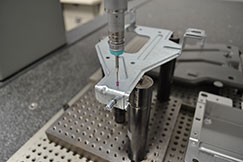 Local Presence, Global Impact
We're proud to be a strong, supportive member of the Milwaukee manufacturing community and enjoy working with companies in Southeastern Wisconsin and throughout the World.
Customers seek out our services from all over the United States and the world — especially Mexico and Latin America, Germany, and Japan.
Headquartered in the Greater Milwaukee area in Southeastern Wisconsin, Waukesha Metal Products operates out of three state­-of­-the-­art manufacturing facilities:
Sussex, WI: Our 48,750 square foot facility west of Milwaukee focuses on metal stamping as well as tool and die work.
Grafton, WI: Our 42,000 square foot fabrication facility is just north of Milwaukee.
San Luis Potosí, Mexico: Our 110,000 square foot facility is located in the Bajio region of central Mexico, under six hours northwest of Mexico City.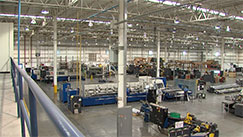 Ethics Policy / Core Values
Waukesha Metal Products is dedicated to being an ethical partner to each one of its stakeholders. In order to remain an ethical organization, Waukesha Metal Products holds true to its core values: safety, respect, integrity, sense of urgency, and accountability.
These values instill a sense of responsibility in all employees and partners, ensuring ethical corporate citizenship.
By upholding these values, Waukesha Metal Products will realize continued success and growth.
Well Being
The safety and well being of everyone in the organization is the key to our success
Respect
We treat everyone with dignity and respect
Integrity
Through the whole supply chain to the customer, we do the right thing every time
Urgency
Time is a competitive advantage
Accountability
We are responsible to all of our stakeholders