Engineered for Durability & Strength™
Metal Stamping Equipment
Waukesha® Metal Products employs leading edge and industry-standard metal stamping presses for both large and small runs. Paired with the more than 40 years of experience in the industry, this full selection of capability and capacity allows us to provide single-source solutions for many of our customers.
Diverse Equipment
Our wide range of equipment enables us to work up to 660 tons and speeds up to 250 strokes per minute.
Armed with an in-house tool and die design team using SOLIDWORKS and Logopress tool and die design software, we're equipped to handle the most demanding metal stamping projects.
Waukesha Metal can produce stampings in a large variety of materials, including high strength, low alloy (HSLA) steel, low carbon steel, stainless steel, copper, aluminum, and brass.
We design and build precision progressive dies as well as transfer and stage tooling, with a focus on production efficiency and decreased tool wear.
You can find a full list of our metal stamping equipment below.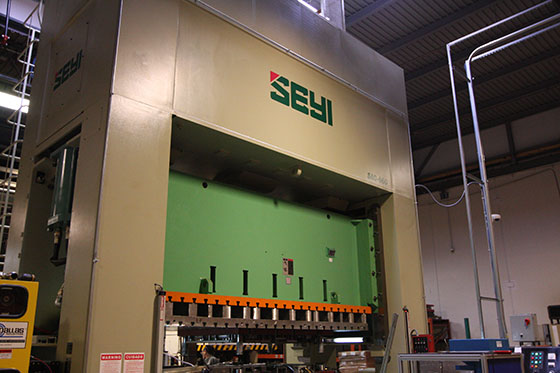 Servo Press Technology
Our investment in a Komatsu servo press is a direct result of our constant drive for innovation, with the goal of constantly providing the best value for our customers.
The electric servo press allows us to execute more innovative options for shaping material by utilizing programmable ram velocity or motion rather than the traditional fixed stroke or motion of mechanical geared machines.
Paired with proprietary tooling, servo presses can also reduce secondary operations and tooling costs, creating shorter lead times for more complicated projects.
To learn more about our servo press technology, click here.
More than Machines
The equipment is the tool with which our dedicated and experienced in-house tool and die craftsmen and innovative design and engineering team come together to execute on our customers' project requirements.
See Our Equipment in Action
If you'd like to see some of our equipment in use, watch some of our videos.
Press group – Sussex, WI

Capacity
(Tons)
Stroke
Stroke/Min
Max Shut
Height
Slide
(W x D)
Bolster
(W x D)
SEYI
660
14.17
20-40
24.75
145.6×60
145.6×61
Minister
600
10.000
35-75
24.8
120x48
120x60
Aida
440
12.000
30-70
23.5
120×55
120x55
Komatsu – Servo
330
6.7
65 max
23.6
82x47
94x47
Komatsu
300
14.2
20-40
24.24
98x49
98x49
Komatsu
275
11.8
20-40
21.6
82.5x27.5
106x37
Niagara
220
6
50-100
22.5
72x42
72x42
SEYI
220
8
40-80
16
72x39
83x43
Blow
150
6
20-100
18
72x36
72x36
Aida
121
4.33
50-100
13.78
53.5x20.5
65.4x26.8
Minster
100
4
0-250
16.06
48x18.5
48x31
V&O
88
4
72
12
20x14.5
39x24
Komatsu
88
5.12
20-75
13.78
21.5x17.5
39x23.5
Amada
88
5.12
50-95
12.6
21.6x17.7
40.5x23.6
Niagara
75
3
50-120
10.5
34x18
36x30
Minster
60
2
120
10.5
21x14
32x21
Hovis
1.5
0.75
50-200
–
1.5 Dia
2.5 Dia
Press Group – San Luis Potosí

Capacity
(Tons)
Stroke
Stroke/Min
Max Shut Height
Slide
(W x D)
Bolster
(W x D)
Minster
600
12
0-60
30
120x60
120x60
Verson
400
12
12-20
29
148x72
148x72
Minster
600
14
0-60
30
120x60
120x60
Minster
400
14
0-70
30
120x60
120x60
Minster
400
10
0-80
24
96x48
96x48
Minster
400
10
0-80
24
96x48
96x48
SEYI
120
7.1
0-80
15.8
45x26
25.6x26.8
SEYI
120
7.1
0-80
15.8
45x26
25.6x26.8