Proud to be Engineered for Durability & Strength™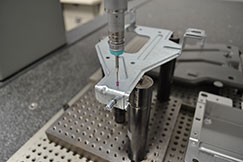 Making sure every product is Engineered for Durability and Strength™ is essential to our reputation and your satisfaction.
Over 130 dedicated people armed with controlled processes provide production seven days per week. Practicing lean manufacturing techniques throughout the organization, we optimize production with automation, cellular manufacturing, enterprise resource planning and efficient utilization of assets. Waukesha® Metal Products' high standards for quality, reflected in our numerous ISO certifications, allow us to fulfill the metal stamping and fabrication needs for a wide range of industries. We specialize in metal stamping and fabrication for the automotive (especially off highway and heavy truck), aerospace, medical, consumer products, industrial power, solar, commercial and residential lighting, and agricultural equipment industries.
After reviewing your needs, our team focuses on:
Process Excellence
Innovation
Validation
Continuous Improvement
Through our constant vigilance of these primary aims, Waukesha® Metal Products has been dedicated to providing the best value parts and assemblies in the industry since 1971.
---
Local Presence, Global Impact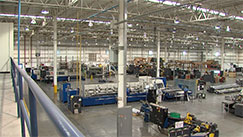 We're proud to be a strong, supportive member of the Milwaukee manufacturing community and enjoy working with companies in Southeastern Wisconsin and throughout the World.
Customers seek out our services from all over the United States and the world — especially Mexico and Latin America, Germany, and Japan.
Headquartered in the Greater Milwaukee area in Southeastern Wisconsin, Waukesha® Metal Products operates out of three state­-of­-the-­art manufacturing facilities:
Sussex, WI: This 48,750 square foot facility west of Milwaukee focuses on metal stamping as well as tool and die work.
Grafton, WI: Our 42,000 square foot fabrication facility is just north of Milwaukee
San Luis Potosí, Mexico: Our 110,000 square foot facility is located in the Bajio region of central Mexico, under six hours northwest of Mexico City