Engineered for Durability & Strength™
News and Press Releases
Here you'll find recaps of Waukesha Metal Products mentions in industry news publications and local business media, as well as press releases. To keep up on the latest, join our email newsletter or follow us on Facebook, Twitter, or LinkedIn!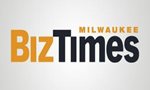 "We are all busy, but talent is or will be a limiting growth factor in the near future at all of our businesses."
See what our President, Jeff Clark, has to say about the 'grow or die' philosophy and the shrinking talent pipeline in this week's BizTimes.