Engineered for Durability & Strength™
Metal Fabrication Equipment
At Waukesha® Metal Products, providing the best value for your metal fabrication project is our number one goal. To make sure we're meeting that goal, our facilities house a large selection of modern equipment.
Diverse Needs, Diverse Equipment
We use a blend of cutting-edge and industry-standard machines to ensure we're able to fulfill on the wide variety of metal fabrication projects we receive from our customers.
Our 33-ton CNC turrets, 4000-watt cutting laser, and brake presses with capacities up to 176 tons allow us to produce high quality products with minimal lead times.
Our metal forming capabilities are complemented by our team of certified robotic and manual TIG and MIG welders. Our assemblers then use a variety of manual and automated assembly equipment to provide any additional value added services you need to complete your project.
Experience Matters
Top-of-the-line equipment is a necessity in this industry, but Waukesha® Metal Products also brings to bear over 40 years of experience in manufacturing.
You can rest assured that our equipment is being operated by a team of experienced, passionate craftsmen who take pride in producing quality parts.
Our staff is especially proud of their ability to create custom fixtures for our robotic welders, streamlining fabrication projects so we can produce parts at affordable prices.
In addition, employees at our in-house tool and die facility often assist with fabrication projects by creating custom tools, jigs and fixtures to maximize the efficiency of fabrication processes.
We also pair our experience and commitment to providing the best value with our full menu of value added services. Waukesha® Metal Products provides a truly turnkey solution that will deliver the precisely finished part specified in your prints.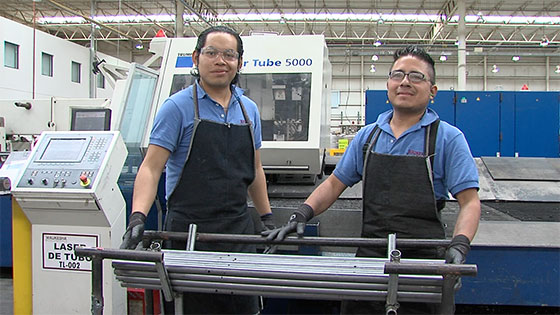 Watch Our Equipment at Work
Would you like to see our equipment in action? Watch some of our videos.
You can also find a full list of our fabrication equipment below.
Grafton, WI
Turrets

Capacity (US Tons)

Stroke (inches)

Max Sheet Thickness (inches)

Max Material Weight (lbs)

(2) Amada Turret Vipros 358 King II

33

1.575

0.25

110

(1) Amada Turret Vipros 358 King

33

1.575

0.25

110

Laser

Max Capacity (Watts)

Max Feedrate (in/min)

Max Sheet Size (Inches)

Max Material Weight (lbs)

Mitsubishi Fiber Laser

ML3015SR-F40

4000

1800

120 x 60

3,000

Brake Presses

Capacity (US Tons)

Stroke (inches)

Max Bending Length (inches)

Distance Between Housing (inches)

ERMAK
176
7.08
144

128

88
4

98

(2) Amada RG-80

88

3.9

98.6

80.71

Amada RG-8025

88

5.94

98

(2) Amada Fab III-8025

88

6.54

98

Cone 900 Servo Electric

25

5.91

34.17
Welding

Robotic TIG Workcell

Panasonic PerformArc YA-INPA

MIG Welding

(2) Miller MIG welders

TIG Welding

(2) Miller TIG Welders

Resistance

(6) Welltronic Spot Welders

Resistance

(1) Janda Spot Welder
Support Equipment
Timesaver APF40T
Amada Shear M2560
150 Ton Beckwood Hydralic Punch Press
165 Ton Aida Stamping Press
105 Ton V&O Stamping Press
(2) Auto-Sert Presses
(2) Haeger Presses
6″ Surface Sander Polish Lathe
2 Ton Overhead Crane
San Luis Potosi
| | | | | |
| --- | --- | --- | --- | --- |
| Turrets | Capacity (US Tons) | Stroke (inches) | Max Sheet Thickness (inches) | Max Material Weight (lbs) |
| Amada Turret Vipros 345 | 30 | 1.575 | 0.25 | 50×78 |
| Amada Turret Vipros 358 King | 30 | 1.575 | 0.25 | 50×39 |
| | | | | |
| --- | --- | --- | --- | --- |
| Laser | Max Capacity (Watts) | Max Feedrate (in/min) | Max Sheet Size (inches) | Max Material Weight (lbs) |
| Trumpf L3030 Plate Laser | 3,800 | | 60″x 120″ | |
| Trumpf TruLaser Tube 5000 | 2700 | | .75″-6″ Tube OD | 265 |
| | | | | |
| --- | --- | --- | --- | --- |
| Brake Presses | Capacity (US Tons | Stroke (inches) | Max Bending Length (inches) | Distance between housing (inches) |
| CNC Hydraulic | 175 | 8 | | 105 |
Welding
Fanuc Robotic Welding Cell
ARC MATE 120ÍL 6-AXIS
Fanuc Robotic Welding Cell
ARC MATE 120ÍL 6-AXIS
Fanuc Robotic Welding Cell
ARC MATE 120ÍL 6-AXIS
Fanuc Robotic Welding Cell
ARC MATE 120ÍB/10L 6-AXIS
Fanuc Robotic Welding Cell
ARC MATE 120ÍB/10L 6-AXIS
Resistance
Welltronic Spot Welder
Resistance welder
1500, 150KVA
Saw
HYD MECH
H-22A
HYD MECH
V-18APC
Bender
Eagle CNC Tube Bender
EPT100
Support Equipment
Orbiform riveter
M750A-0000
Orbiform riveter
M500-0000
Orbiform cell
M-715B-0000
taping station
ROSCAMAT Mosquito
Well Index Drill Press
847
Clausing Drill Press
1900
HAHN-KOLB Tapping machine dual head
7019
Auto-Sert Press
Pacific Hydraulic Press
100PF